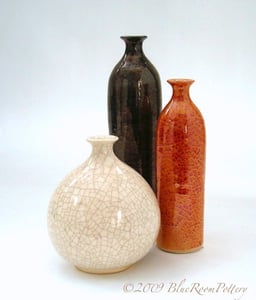 $

116.00
This listing is for the set of three of my wheel-thrown bottles, and specifically
1 small round 4" (10cm) White Crackle,
1 straight 6" (15cm) Orange Crackle
and 1 straight 8" (20cm) Smokey Crackle
These beautiful wheel thrown bottles forms feature my unique metallic finish, or otherwise lustres, that gives them their unique reflective surfaces.
The iridescence is achieved by adding 2% Silver Nitrate in powder form into the glaze and the piece is fired multiple times including a reduction firing (absence of oxygen during firing). The dragonfly wing effect is done by hand-painting.
The whole set of three bottles is for sale here. It is discounted as a set of 3. You can use them with dried flowers, they are decorative and do not hold water.
Many other colors are available as you see in the detail photos to the side. They can be ordered even if not currently in stock and will ship in two weeks. Contact me if you are interested.
-----------------------------------------------------------------
P.S. A LITTLE PIECE OF INFO
---------------------
About lustres.
Lustre is the metallic decoration on the surface of ceramic forms or tiles. Golds, silvers and reflective reds have seized the imagination of makers and appreciators of ceramics for over 1,200 years. Such work has been highly prized over centuries in many lands and cultures.
Lustre on ceramics is almost akin to alchemy. In the right conditions, copper becomes vibrant, lustrous red. Silver may be silvery or may become golden. The transformation of dull metal compounds to gleaming, reflective metal is achieved in complex firing conditions in the kiln that are hard to control.
So lustre is also unpredictable and therefore rarely practiced today. The fire may thwart the potter's ambitions or reverse his worst expectations. A crucial skill in producing lustre lies in the packing and firing of the kiln in the last of three firings. At this point, when most potters have produced their final product, the lustre potter is just starting on the most hazardous stage.
Luster usually requires three firings: the first ("biscuit") to harden the clay and the second to fire the glaze, usually blank at this stage. The work is then decorated using clay pigments containing metal compounds, usually of silver and copper. The third firing is to a low temperature - red heat - when the kiln is starved of oxygen and the pigments are chemically "reduced" to base metals.
Many sensitive variables of temperature, atmosphere and air movement govern the final result. Potter and kiln both contribute to the outcome in partnership. Spectacular iridescent and smoke effects may magically appear if one is lucky. The failure rate is high and prize results are always accompanied by disappointments!
Marietta's work is usually hand-thrown, brush-decorated and fired at least three times. The reduction firing is achieved using sugar as an agent. Her work is intended to be decorative but may have occasional functional use, like her beautiful bowls.