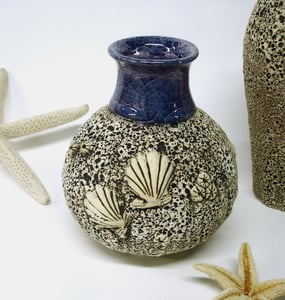 $

38.00
This vase is from my "Sunken Treasure Series". It is wheel-thrown with a recycled porcelaneous stoneware clay. It has my rustic earthy lava-textured glaze on the outside and my trademark metallic crackle finish on the lip.
Shown in blue crackle glaze but many other colors are available.
The one for sale here is 5.5" high by 3.5" wide. It is functional and can be used as a vase.
This is a stock photo, since I am sure that you appreciate the fact that I I need time to make the work, instead of sitting in front of the computer all day. The one that you will get will be very close to the one in the photo, but not exactly the same, since every piece I make is truly handmade and unique. I guarantee you that I will be just as beautiful, if not more!