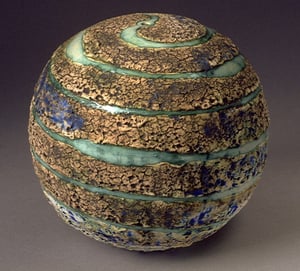 $

585.00
This is a large wheel-thrown and altered ceramic Planet from my "Pleiades" Series.
It is one of 100 differently decorated pieces that I created inspired by the "Pleiades" the beautiful sisters, lined up in space where Hera threw them in ancient Greek times, with the brightest and prettiest one, Maia, leading the way.
It is made with a recycled porcelaneous stoneware clay and is glazed with my rustic earthy lava-textured glaze. I used the resist method to glaze the irregular light turquoise green lines that symbolize the movement of the planet in space.
It is approx. 8.5 inches (22cm) Round and it's purely decorative.
I love watching the sky and dreaming about life out there. Having grown up in Greece and been taught ancient Greek Mythology as a kid in the form of fairytales contributed to this.
This is a stock photo, since I am sure that you appreciate the fact that I I need time to make the work, instead of sitting in front of the computer all day. The one that you will get will be very close to the one in the photo, but not exactly the same, since every piece I make is truly handmade and unique. I guarantee you that I will be just as beautiful, if not more!
**This listing is for ONE Planet****